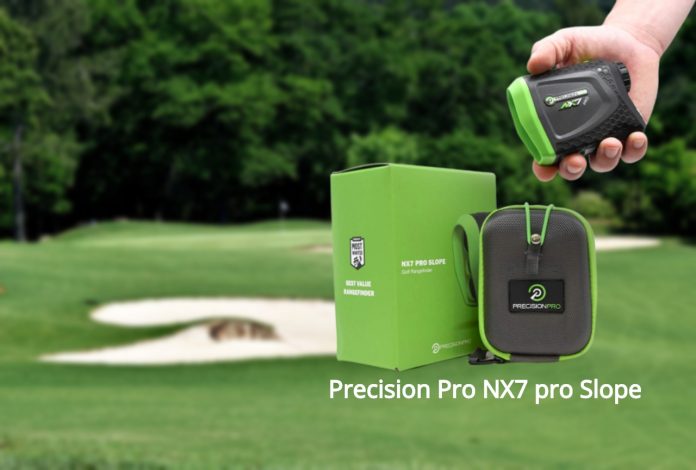 Laser rangefinders are great innovation of technology. They are the fastest way to shave a few strokes off of your golf game and increase your confidence little more while out on the course. But, which one is the best laser rangefinder for you as there are many brands and models are available in the market. However, the best laser golf rangefinder should have excellent Accuracy, zooming capacity, battery life, and the ability to lock onto the aimed target. Also, it would be great if the device is easy to use, lightweight, and fits well in your hands or your pockets.
We did some research on laser golf rangefinders. From our study, we found that Precision Pro NX7 Pro is budget-friendly and scores well on all the points mentioned above that you should look into the best laser golf rangefinder. So, we added NX7 Pro in our top 10 laser golf rangefinder list for reasons that we couldn't ignore. Golf is an expensive game, but with NX7 Pro Slope rangefinder, you have something fits into your budget while performing like the top of the line Golf Rangefinders. It also receives huge positive responses from golfers from the beginning of this product has launched. You can check Amazon customer's NX7 Pro rangefinder reviews too as proof of this rangefinder popularity. However, let's dive deep into the Precision Pro NX7 Pro details review apart from just relying on its high rating on Amazon and try to discover why it becomes popular among the golfers.
NX7 Pro Slope Key Features

Adaptive Slope
Pulse Vibration
Water Resistant Design
Shockproof Design
Accuracy +/- One Yard
400 Yards Measurements
1/10 Yard Measurements
6x Magnification
Multi-Distance Mode
Tournament Legal
Size:  1.5″ x 3″ x 4″
Weight: 10 oz
2-year warranty
Design
The affordable price of the Precision Pro NX7 Pro might naturally cause worries for someone about the overall built quality and design. So, we certainly felt the way to get into the review. After analyzing the NX7 Pro design, we can say, Precision ProⓇ has created a design that is not overly compact but also not offering anything overly complicated at the same time. It's comfortable and fits well in either hand regardless of the user's expertise.
The color pattern makes it stand out with lime green accents. However, it avoids the pitfall of overly flash making it look cheap or seems like they are trying extremely hard. For the rest of the unit, the eyepiece gives adjustable focus and black text that is not necessarily "pop" as red does. And most importantly, it's well organized and easy to read. Another cool feature is its mode button. You can jump back and forth quickly with its mode button when you need to change between slope and non-slope mode or measurement metric. Although, It seems that something probably overlooked in design at the time of designing the other units. It also comes with a top-notch quality carrying case. The carry case looks similar to the one used by another leading brand, just come with Precision ProⓇ's branding and lime color accents.
The dimension of NX7 Pro is 1.6 x 2.8 x 4.1 inches, and weight is around 284g. It's a water resistance device but not fully waterproof. So, you can't use it in underwater but can hold with your wet hands on a rainy day or can set on early morning wet turf while lining up your shot.
Features
Precision ProⓇ made two key feature upgrades in NX7 Pro over their model Nexus. One is the size, and another one is speed. It's 25% smaller and 30% faster than Nexus. However, Precision Pro NX7 Pro can be an excellent choice because of so many different reasons. It assures accuracy within +/- 1 yard and displays distances to the 1/10th of a yard. Also, measures yardages to targets as far as 400 yards. It's simple and easy to use. All you have to do is just push the single button on the top of the device and then a circle will appear with crosshairs. After that, push the button once again, and the device will give you the accurate distance to your aimed target. Not only that but also Precision ProⓇ has added a few more features to keep pace with big boys. Let's discuss NX7 Pro features in detail,
Adaptive Slope Technology
You can't reliably shot what you can't measure accurately, especially when you're facing a shot with elevation. NX7 Pro's Adaptive Slope feature solves this issue and provides the adjusted yardages calculating the uphill and downhill slope. So, you don't have to guess anymore. Additionally, you can toggle between slope and tournament legal non-slope mode with one switch.
Pulse Vibration Technology
Similar to Bushnell Tour V4's JOLT technology, Precision ProⓇ used Pulse Vibration Technology for NX7 Pro. This technology gives a quick Pulse same as Bushnell Tour V4 when locked on to the target. So, no more guesswork as you know what you are going to hit. This feature will also help you to speed up your game and gain more confidence standing over each shot. Confidence in golf is almost directly related to shooting lower scores consistently.
TAG (Target Acquisition Technology)
This technology confirms that you're ranging the target you aim to. It scans the target areas and locks onto the target to ensure accurate distances to the target, not the objects behind the target. TAG technology makes it easy to lock on the flag even if you have a shaky hand. Also, NX7 Pro's Pulse Vibration Technology gives a quick Pulse when locks on to the target.
NX7 Pro used high-speed SD laser technology. So, it can give distance readings in less than a second after locked on to the target.
NX7 Pro Built with crystal clear optics and has 6x magnification capacity. It means it can bring the target 6 times closer to give you better visibility and target acquisition. The importance of this feature can't be overlooked, especially when you are a little far away from the flag.
Precision Pro NX7 Pro allows you to switch easily in between yards and meters based on your measuring unit. For example, if you are in USA then you probably like to measure your target distance in yards, and other Non-US golfers may want to measure distance in meters. What you have to do is just need to push the button single times to change the measuring unit in either yards or meters, and it's tournament legal.
Accuracy is guaranteed within +/- 1 yard. So, it will help you to choose the right club each time with confidence.
The NX7 Pro range measuring capacity is 400 yards. It allows you to target water, bankers and map out a strategy for the hole behind the tee. Besides, 1/10 Yard Measurements adds an extra layer of accuracy to give you the confidence that your target distance is correct.
Water Resistant and Shock-Proof design
Precision Pro NX7 Pro is a water resistance device but it's not fully waterproof. So, you can't use this device underwater. However, you can use it with your wet hands or under light rain without any issue. Also, the shock-proof design will protect your device from any accidental drops, tosses or any other impact on the golf course.
According to revised USGA 14-3 regulations, using distance measuring devices is legal in tournaments, but you are not allowed to use any device featuring DMD. So, you can use NX7 Pro legally if the Adaptive slope mode is turned off during the tournament.
The NX7 comes with 2 years warranty, unlike most competitors who only offer one year warranty. Also, they offer 30% future trade-in allowances. It means if anyone wants to upgrade to a newer model down the line, then he/she can use the current model as credit towards a new one. It's a huge advantage that not usually seen in any other company. 
Precision ProⓇ offers lifetime free battery replacement for NX7 Pro.
Precision Pro NX7 Pro Unboxing
What's included in the box
NX7 Pro Slope Rangefinder
Premium Hard Carrying Case
CR2 3v Battery
Instruction Manual
Lanyard
Cleaning Cloth
Free Battery Replacement
Simple Setup and Easy to Use
NX7 Pro is simple to set-up and easy to use like other modern laser rangefinders. Just push the power button to activate the device. Once activated, aim the device to the target and push the button again, the target distance will show on the screen.
NX7 Pro offers more options than the Nexus or Non-Slope model NX7. You can toggle between slope to Non-Slope mode or yards and meters using the mode button.
But some complained about the battery door. Unlike some other rangefinders' quarter-turn doors, it needs to be rotated several times to open or close it. This by itself would not be a problem but the cap is somewhat recessed which can make it difficult to manipulate. It's not a big deal, as you may need to change the battery once a year but it's worth to be mentioning.
Pros
Budget-friendly price
Quick Pulse Vibration
TAG – Target acquiring technology
Water Resistance and shockproof design
Crystal clear optics and 6X magnification 
Tournament Legal
Lifetime Free Battery
Excellent Customer support
Cons
No visible indication for Non-Slope mode
The range is only 400 yards
Some reported problem with providing yardage around 200 yards.
A few reported durability issue. However, customer support is amazing
Precision Pro NX7 Pro Review
Final Thought
Precision ProⓇ is a small company, but they concentrated on creating high-quality laser rangefinders at their competitor's fraction price. So, they do the same with NX7 Pro here too. Precision Pro NX7 Pro is one of the best budget-friendly laser golf rangefinders with everything you need on the course to lower your score. Also, the Precision Care Package will be activated when you purchase NX7 Pro. It's a form of warranty that they are providing to look after their buyer, even on a Sunday! This package includes, 
90-Day Money-back Guarantee
Two-Year Warranty
Guaranteed Trade-in Allowance
Fast No-Cost Turnaround Time
"We're Here For You" Promise
Free Battery Replacement
Best Practice Product Videos  
The NX7 Pro price was on Amazon is $269 when we write this review, which may change at any time. Or you may avail some rebate in exchange for the previous model. Just check all the available offers before buying.