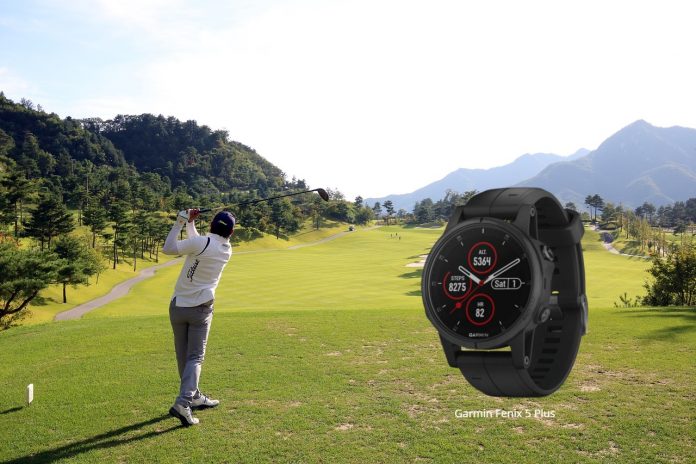 Garmin Fenix 5 plus is another top-rated premium golf GPS watch from Garmin that we added in our top 10 golf watches list. The previous series of this GPS watch Fenix 5 got a huge recommendation from its users, and we found this watch rating 4.1/5 based on 1.1k customer reviews on Amazon. And it's more than a golf GPS watch, it's a multi-sports GPS watch with advanced wrist optical heart rate monitor technology and also perfect for other sports activities such as running, skiing, swimming as well. In this watch, Garmin not only pays attention to jamming the watch with technology but also made several versions (Fenix 5/5S/5X Plus) in different sizes. So, you can choose your one according to your own style and needs.
However, Garmin refreshed the Fenix series last year and launch Fenix 5 plus series that takes the place of existing Fenix 5/5S/5X. All three watch of plus series loaded with many new features such as onboard color mapping, contactless payment (Garmin pay), onboard music etc. Also, Fenix plus series new Galileo GPS support for higher accuracy, new smart notification privacy features, and locking the GPS altitude to the elevation data in the maps themselves, among other features.
On the other hand,  Fenix 5X plus golf GPS watch , which is the higher end watch of the plus series receives new polymer Oximeter hardware/software solutions that are probably to be also approved as a medical device. All above that are the features of new software, and most focused on hiking realm, but it is also suitable for other sports like golf too.
Check Price On Amazon

Garmin Fenix 5 plus Key Features

Smaller-sized multisport golf GPS Watch
Large 1.2" sunlight redable display,  stainless steel bezel, buttons and rear case.
Full-color topographic map
Can store and play upto 500 songs and listen using Blutooth headphone.
Garmin Pay contactless payment solution.
Built-in navigation sensors include three-axis compass, gyroscope and barometric altimeter
Multinetwork Navigation (GPS, GLONASS and Galileo) capability.
Battery power: 7 days is smartwatch mode & 4 hours in GPS mode with music.
Other Garmin Golf GPS Watch Reviews
Design
There is nothing new to mention about the outside design of the Fenix 5 Plus except a few new strap colors. The only significant cosmetic change in series is the Fenix 5S Plus, which has bumped up its screen to the same size as mid-model, which makes TOPO maps more easily readable.
The screen resolution is the same as it's previous series Fenix 5, which was 1.2 inches with 240×240 resolution. So, it gets enough room for those color maps visibility.
The measurement of the 5 plus is 47mm across and 15.8mm thick, 86g in weight. It's powerful in terms of today's sports watch standard. But remember that Garmin loads a lot in here, and that makes Fenix series one of most feature-laden multisport watches on the market.
The physical dimensions for all three plus watches are also the same as the previous plus-less series, so 5S plus is ideal if someone is looking for something smaller. Size may do no matter, but the weight may be as it wants to bounce around a lot when running. However, the silicon straps of Garmen are nice and comfortable even if fastened tight.
All controls are placed on the left side of the clock with three buttons and two down the right. Touchscreen option is not in here.
What's new in Fenix 5 Plus Series
There are handful new features are added in new Fenix 5 plus series. We are going to list all new features below, which is more than the existing Fenix 5 (non-plus). Let's check what's new in Garmin Fenix 5 Plus Series,
All three Fenix 5 plus watches added up to 16 GB full-color topographic map which was only available in the previous Garmin Fenix 5X.
Garmin popularity routing data added to map set which was first seen in EDGE 1030.
Now onboard maps can use known elevation data, and known GPS data can coordinate to calibrate altimeter.
The watch now has the ability to play music from both direct music file or iHeartRadio/Deezer offline sync that started on Garmin forerunner 645 Music first.
Bluetooth headphone connectivity reception slightly improved over forerunner 645 Music.
Contactless NFC payment added to watch that initially was on Vivoactive 3 and then since other units.
Added new GPS chipset to support Galileo GPS that initially seen Galileo in Garmin Edge 130.
GPS algorithms changes in conjunction with new hardware for claimed better edge case handling.
Communications/antenna chipset performance has been improved, and sensor dropout issues should resolve for mostly 3rd party sensors.
This watch now has ClimbPro which splits up climbs on courses into individual chunks.
Only the Fenix 5X plus has PulseOx, which use onboard red LED sensor to pulse oximetry data.
Full golf course (over 40,000 courses) dataset added to all plus watches.
Smartwatch notifications privacy mode added and will not display the message contents automatically. Only if wrist turn and button press.
Battery performance improved. 32hrs in 1 sec. GPS mode and 85Hrs in UltraTrack mode. Specially for Fenix 5X Plus.
Price increased. $150 to spend more on base models.
The Basic
You will not find much differences in terms of basics like activity tracking or such in Fenix 5 Plus series if you are familiar with Fenix or higher end Forerunner series like FR935. However, There is no other place to start with the basics than the face of the watch. The watch will show current altitude, heart rate, date and time with steps by default. But you can customize all of them, data element as an example. You can blend from the default watch faces, or gazillions of other forms can download from Connect IQ App Store.
From the perspective of tracking activities, your steps, stairs, heart rate, and sleep will be tracked by this unit — all you can see by pressing the button ups and down, and scrolling through the different widgets. Also, you can download other widgets from the Connect IQ app store such as weather.
The activity tracking data automatically transmitted to the smartphone through the Garmin Connect App (you will need the Garmin Connect app to connect your smartphone with your watch). And you can see all your activities tracking data on your smartphone. You can view it on a day to day or weekly or monthly basis.
About sleep, Garmen included REM sleep cycle data last year and you can see it too. By default, the Garmin Fenix 5 Plus series supports that out of the box. Also, you can see the breakdown of your sleep phases. This can likewise be plotted over different time periods. But note that in your overall sleep matrics, Garmen devices do not account for naps, which is a bit of a bummer. However, most watch merchants don't account for them either.
You will get two core 24×7 metric display by leveraging optical heart rate sensor on the back of the unit, which is 24×7 heart rate (HR) and stress. The 24/7 HR sensor measures at one-second intervals and tacks your HR resting data. Resting HR data can use in tracking fatigue and is usually helpful to give you an indication of whether you may getting sick or overtrained.
Also, You will get the smartphone notifications on a basic front. And your smartphone itself control those notifications from the apps and notification centers.  However, there are overrides for aspects like 'Do not disturb' modes that you can implement in the watch. Moreover, you can control the notifications whether you want it to appear during workouts or not, even non-workouts times or not. You can customize all. Also, the new Garmin Fenix 5 Plus series has the ability to enable notifications privacy mode that allows you not to display notifications until you press the watch button or turn your wrist. But by default, the notifications privacy mode is not enabled.
Activity
This is the section that you are actually want to know. If already you own the Fenix watch then you must know that these devices are complete in their range of trackable activities.
Running, swimming and cycling are usual for today's sports watches, but new Garmin Fenix 5 plus can track every sports activity from Golf to yoga through stand-up paddle-boarding. If you can't track it,  you perhaps should not be doing it. And if you don't find your activity in Germin's pre-set list, you can make a custom one.
The data screen of the watch also be customizable, so you can choose only what you want to view. Also, you can set auto laps and a metronome, customize alerts. But there are limits on customizing workouts and creating a custom training program, you can create them on Garmen connect site and have to sync them with your watch.
The key feature of this new Fenix 5 plus series is the full topographic map which was only available on the previous series 5X. So, you don't need to buy the most expensive one to get this feature as all the three of this series now has this feature. This a big deal if you are an avid hiker, this watch has the pulseOx feature that gives you the measurement of blood oxygen saturation (how much hemoglobin is carrying oxygen), which changes as you climb to higher altitudes.
Over 40000 golf course dataset added in all Garmin Fenix 5 plus watches. So, it becomes a perfect GPS watch choice for a golfer. When you select golf from the watch sporting menu, you will connect with the satellite, and then you have to choose your course from the list of available courses. Once you select the course, you just need to select "yes" to keep score. After that, select UP or DOWN to scroll through the holes, and the device automatically transitions when you move to the next hole.
The device calculates the distance to the front and back of the green, distance to the selected pin location. Also, you can see the current hole number, Par for the hole and map of green. You can take a closer look at the green and can move pin location by selecting move flag from hole info screen. The hole information screen will update the distances to show the new pin location and will be saved for the current round only.
You can see distances to hazards with the fairway for par 4 and 5 holes. Hazards that affect shot selection are shown individually or in groups to help you determine the distance to layup or carry. You must enable scoring before the device automatically detect and measure shots.
This device features automatic shot detection and recording. It will record your shot distance each time you take a shot with the fairway, and you can view it later. A list of layup and dogleg distances will show on selecting "Layups" for par 4 and 5 holes. It will display each layup and the distance until you reach each layup.
The hole information screen will display the scorecard when you are on the green. The TruSwing feature of this device will allow you to view the swing metrics recorded from your TruSwing device. The odometer can be used for recording time, distance and steps you traveled. The odometer starts and stops automatically when start or end a round. However, you can enable start GPS tracking feature to track all of your detailed statistics while playing golf.
The Garmin Fenix 5 Plus is highly equipped to outdoor activities, for example, climbing and trails – but running is its strongest one. Out of the box, you get an enormous amount of information, up there with the best gadgets in Garmin's line up.
You get all of your expected paces, distance, calories stuff, and the Fenix 5 Plus added lots of features on elevation gains, which are put front and center in trail running mode.
And it's packed with advanced analytics as well. Cadence and vertical oscillation are part of Garmin Connect program, just as Performance Condition – which is a pointer of how well your body is prepared to run, shown amid the first 6 – 11 minutes of your exercise. And it's a decent method for telling you that your body probably won't fit your training plan, but it's somewhat irritating when it shows you that in mile one of a half marathon.
What's more, sprinters and cyclists alike will be satisfied that all information can be spat out to Strava also.
Garmin's devices are essentially top tier for swimming and the Fenix 5 plus also continued with that.
When you input the pool lengths, you will be rewarded with stroke type, stroke count and SWOLF – the magic score for the maximum number of strokes each length. It works accurately that make it a remarkable companion.
Advanced Metrics
Similar to its predecessor, Garmin Fenix 5 Plus still using Firstbeat's heart rate variability algorithms to boasts a host of insights into your fitness. It spits out scores on Training effect, Training Status, VO2 Max, and race predictions.
According to the Wareable, they took a bunch of wearables into their lab after the release of Fenix 5 Plus. They tested VO2 Max against an actual treadmill analysis and found Garmin was the best from all of them – just a shade lower than the real world. It was an impressive estimate, And they said that they did not find any reason not to recommend Garmin Fenix 5 Plus as per their test results.
Also, the Training Effect is useful as well, which scores every exercise for its effectiveness aerobically and anaerobically.
Furthermore, training status will monitor your last 7 days of workout and your past sessions to let you know whether it was productive (improving fitness), maintaining, or Detraining. You will definitely love these insights as they will become a big part of your weekly training, which offers both motivation to obtain out and run, and quick satisfaction, viewing VO2 Max soar.
However, it also has limitations. These advanced metrics are mainly beneficial only for runners. VO2 will just be evaluated in running mode, with heart rate and GPS tracked, or cycling with a power meter which no-one has. So, you will not get any benefit if you don't run.
Battery life
About battery life, actually the battery increase only in 5X plus in this new lineup. But in reality, Fenix 5X battery is less than non-plus 5X. Sadly, all these new features are just the truth. Garmin predicts, the battery will last long 18 hours in GPS mode which is down from 24 hours, and 42 hours in UltraTrack (which reduce the data recording quality to increase the battery life) which is down from 60 hours. Experts also noticed that the battery start draining faster after workouts, and only music streaming is going to aggravate that.
Compromising the battery life over the features, It's still not too bad if you are thinking to buy Garmin Fenix 5 plus for use in the golf course. 18 hours of battery life in GPS mode is more than enough for a golfer. Also, will get additional features for your other sporty activities.  However, you can wear it as a smartwatch beside your regular workouts, and you will get a few days of use. But in case, you are looking for a trusty hiking mate, be careful that the battery performance is slightly compromised.
Garmin Fenix 5 Plus Review
Pros
Full-color topographic map
Garmin Pay, onboard music
Overflowing with sports modes
Cons
Optical HR still iffy
Controls still sometimes confuse
Battery life gets a cut
Final Thought
Considering all the new features but compromising the battery life slightly, we have no reason not to recommend to buy Garmin Fenix 5 plus for using in golf as well as other sports activities.