Many golfers like to consider a golf rangefinder today to develop their skills and cut a few strokes off their game. Their choice may vary from the handheld golf GPS devices, laser golf rangefinder, GPS app or golf GPS watches. Also, it can be a valuable asset for golfers to improve their golfing skills. However, Bushnell is the most reliable brand in laser rangefinder market, and Tour V4 with JOLT technology is one of the best laser golf rangefinders that they are offering right now. It's a professional laser rangefinder but its great for both amateur and pros. Bushnell claims in their website that more than 97% PGA tour pros are using Bushnell laser rangefinders.
Bushnell Tour V4 golf laser rangefinder is the improved version of their previous wildly popular laser golf rangefinder Tour V3. It can be an excellent choice for both amateur golfers or pros. Bushnell broke convention when designing the tour V4 JOLT. They focused on ease of use rather than loading with the unnecessary features in this device. It doesn't mean that Bushnell V4 isn't rich in features. It has many impressive features that certainly fulfill all your needs on the golf courses. Bushnell claims that "Tour V4 JOLT is the perfect combination of size, speed, accuracy and JOLT". However, Let's check our Bushnell tour V4 JOLT laser rangefinder review to know what's more it has to offer.
Check Price On Amazon

Bushnell Tour V4 Jolt Key Features

PinSeeker with JOLT technology.
Accurate to 1 yard.
Ranges 5-1,000 yards; 400+ yards to a flag.
5x Magnification.
Fast focus system.
Ergonomic design with Stabi-Grip technology.
Posi-Thread battery door.
Water resistant.
2 Year warranty.
3-Volt CR2 battery and premium carry case included.
Design
The first impressive thing about Bushnell Tour V4 is its size, which is 30% smaller than its previous version V3. So, it will comfortably fit in your hand or your pocket. Not only size but also It's lighter than its previous version. However, the product dimensions is 3.1 x 4 x 1.6 inches, and the weight is around 6.6 ounce.
Bushnell Tour V4 laser rangefinder become easier to use and comfortable because of its new ergonomic design. Bushnell shaped the device such a way that fits in your hand naturally. They also placed a small notch along the bottom of this device for players to rest their thumb. The top and bottom area are textured like its previous version V3 to give better grip. Only one button placed on the top of the device to control all the device functionality. You can switch between different mode besides firing the laser with this single button. Also, you can adjust the focus with the focus ring of this device. The eyepiece of this device has designed such a way that it can be adjusted to fit your eye easily. Same as Tour V3, Bushnell Tour V4 also has a protective silicone cover. It comes with a strong and durable eye-catching premium looking silver carry case. And you can clip the carry case with your bag for quick access. You will get a 3-volt CR2 battery included with the device. However, Bushnell Tour V4 JOLT is not a waterproof device, but it's water resistant. So, you can use it in light rain without any worries.
Features
Bushnell Tour V4 has two versions, one is with Slope (Tour V4 Shift/Slope), and the other one is Non-Slope (Tour V4 JOLT). We are reviewing the Non-Slope version here, and we will also give you an overview on Slope version too in this article. Let's check the what features V4 JOLT is offering.
The most unique feature that Bushnell has used in Tour V4 is JOLT technology. For most laser rangefinders, It might be a little difficult to realize when a laser rangefinder has correctly picked up the aimed target. In such cases, you may need to shoot the laser multiple times to the target to confirm that the distance remains consistent. The problem has been resolved with JOLT technology. When you use Tour V4's Pinseeker feature with JOLT, it gives little vibration or JOLT when it locks onto the flag properly. So, it eliminates all of your doubts and confirms that you are getting an exact distance to your aimed target.
PinSeeker is a smart technology that allows golfers to zero in on the flag and strive to ignore picking other objects in the background which could have more reflectology. Using PinSeeker with JOLT gives the golfer short vibrating pluses to let them know that the laser has properly locked onto the flag. JOLT Technology eliminates all doubts.
Apart from distance measuring, Bushnell golf rangefinder model Tour V4 JOLT also has 5X magnification capacity. So, it will give you a considerably closer view, confirming that you have a clear view of your targeted flagstick. Also, the focus mechanism has improved in this model to help sustain a clear image. In the previous model, it was required to rotate the eyepiece to adjust the focus, but Tour V4 JOLT has a single slide ring up above the eyepiece which you can operate using your index finger. So, adjusting focus becomes much faster and easier using a single finger as you shoot your target.
Bushnell Tour V4 JOLT can measure ranges from 5-1000 yards and gives yardages to flags from as far as 400 yards out. Keep in mind that the maximum range is for the perfect condition to a large reflective target. However, it gives the measurement with a 1-yard accuracy.
The Tour V4 is a tournament legal distance measuring device as it lacks a slope compensation feature. According to the current change of USGA rule 14-3, you can't use Slope feature for tournament play. For Tour V4 Shift/Slope edition, it can be used legally for the tournament if the Slope function switch is off.
Bushnell Tour V4 golf rangefinder comes with two years of manufacturer warranty. It means, your Tour V4 is warranted to be free of faults in materials and workmanship for the next two years from the date of purchase.
Bushnell Tour V4 JOLT requires a 3 volt CR2 Lithium battery (included) to powering the device. It also comes with an eye-catching premium looking strong and durable silver carry case. The carry case can be clip with your bag for quick access.
Bushnell Tour V4 JOLT Unboxing
Pros
Ergonomic design, compact size, and light weight make the device easy to use and comfortable. It's also suitable for single hand use and gives an ergonomic rangefinder experience because of its 'Stabi-Grip' technology.
PinSeeker Technology, It's gives faster and more accurate distance readings.
JOLT Technology, though JOLT feature is not a game changer but it will certainly increase your confidence.
Provide ranges from 5-1000 yards with 1-yard accuracy is impressive. Also, gives range to a Flag 400 yards.
Fast focus 5x magnification system gives quick and clear viewability.
Tournament Legal
Two years limited warranty
Cons
Zooming capacity could be better based on other available laser rangefinder models that have 6-7X magnification.
A beginner may face difficulties when switching between different modes and functions.
Some golf laser rangefinder reviewer told that a person's hand needs to be steady to get longer yardage over 220+ yards. So. it's may difficult to take longer yardages for a person who does get shaky hands from time to time.
Some newer model gives ½ yard accuracy compared to Tour V4 1-yard accuracy.
Few people complain that inserting the battery is a little difficult.
Bushnell Tour V4 JOLT Review
Bushnell Tour V4 shift (Slope) Edition
As you already know from our earlier conversation that Tour V4 is available in two editions: Non-Slope and Slope. The Slope version can be distinguished easily as this edition has a red trim in front of it. Bushnell Tour V4 Shift is also lighter than its sibling Non-Slope version. The Slope edition weight is 5.6 ounces, and the non-slip version weight is 6.6 ounces. In addition, Bushnell has used Slope-Switch technology for Tour V4 Shift, so golfers can on and off the Slope mode just shifting the Slope switch up and down. It's also a water resistance device like its Non-Slope version but not waterproof and can be used in light rain without any worries. However, let's discuss little more about what extra features are added in Bushnell Tour V4 Shift (Slope) edition.
Bushnell Tour V4 Shift Key Features

Slope-Switch Technology.
Legal for Tournament Play.
PinSeeker with JOLT Technology.
Accurate to 1 Yard.
Ranges 5-1,000 Yds; 400+ Yds to a Flag.
5X Magnification.
Fast Focus System.
Stable-Grip Technology.
Bushnell case and battery included.
2 years warranty.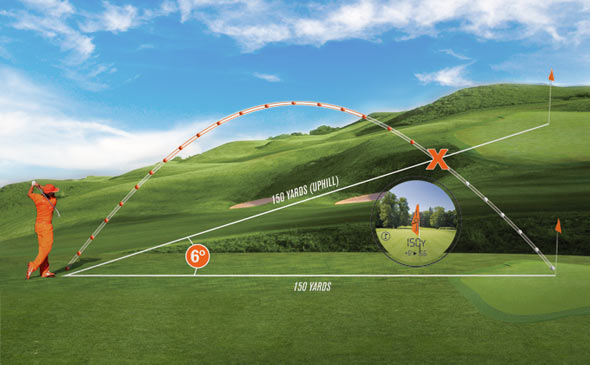 You may already assume that it has Slope feature from the name of this edition. Usually, a rangefinder helps to measure the yardages to the pin, but the Slope feature takes this measurement process one step ahead by providing elevation adjusted yardages. It means, Slope mode takes slopes and changes of elevation into consideration when measuring the ranges between the golfer's current position and the pin position, and then provides the adjusted yardages. Many golfers prefer this feature as it helps clubs selection but according to USGA rule 14-3, using Slope mode is not allowed in any professional tournament. However, a golfer can use Slope featuring laser rangefinder in a professional tournament, but the Slope mode must be switched off. So, it's more logical to buy tour v4 with Slope instead of Non-Slope edition.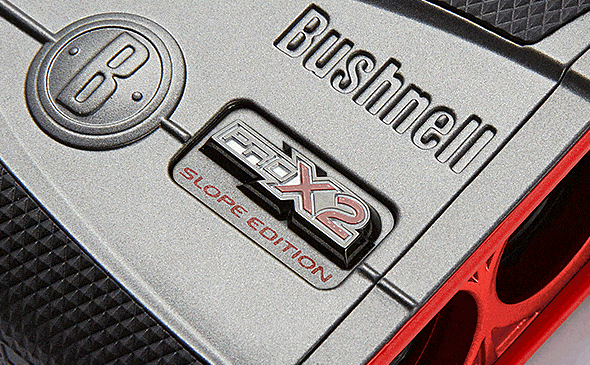 This technology lets the golfers quickly toggle in and out of Bushnell's patented Slope function. It also allows golfers to conveniently use Slope to get compensated yardages around the course when they want it. It's also a USGA confirming device which is legal to use for tournament play when a player needs it, but slope mode must be turned off.
All other Non-Slope edition features that we discussed above such as PinSeeker and JOLT are available in Bushnell Tour V4 Shaft too.
Bushnell Tour V4 Shift (Slope)
Final Thought
Bushnell didn't try to re-innovate anything with Tour V4. Instead, they created a great, smaller, light, and fast product that still retains great features. All of which are easy to use, combined with a new ergonomic design. Although the Tour V4 price might be leaning to the upper end, it's one of the best mid-level laser rangefinders for average golfers. If the price is not an issue, our recommendation is to go with Tour V4 slope edition, because the rules change means that it's also tournament legal.
Finally, if you are thinking to buy a new laser rangefinder and looking for something which going to stick with you for a long time, Tour V4 JOLT can be the right choice for you. Also, you can check our top ten golf laser rangefinders list where we added Tour V4 too.