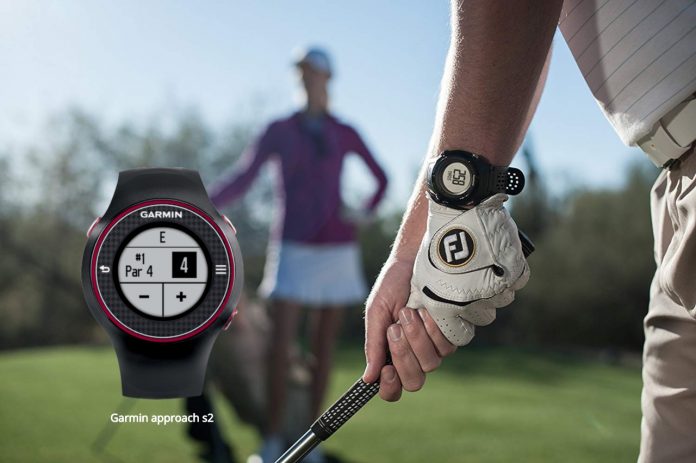 Garmin Approach s2 is one of the best mid-level golf GPS watch models, and over 40000 golf courses around the world are pre-loaded in this model. Also, you will get free lifetime course updates without any additional subscription like other Garmin golf watch. Updates are available through CourseView Updater, and the updates are added up to 4 times a year.
This high sensitivity GPS watch gives the yardage to the front, middle and back of the green. It can also measure layup and dogleg distances to improve usability over the entire hole. So, you can easily understand what golf club exactly need for your next move. And Garmin Approach s2 watch is the most affordable GPS golf watch amongst other available similar but expensive devices in the market.
It becomes popular because of its stylish, comfortable, durable, lightweight and flexible characteristics, not to mention that we are talking about a water-resistant device. However, keep reading to know what it has more to offer.
Check Price On Amazon

Approach s2 Key Features

Yardage to F/M/B (distance to front, middle and back of green)
Yardage to layups/doglegs
Measures shot distance (calculates exact yardage for shots from anywhere on course)
Digital scorecard
Round timer/odometer
Lens Material: chemically strengthened glass,
Strap material: Silicone
Battery life: Watch Up to 3 weeks and GPS Up to 8 hours
Water rating: 1 ATM
Memory: 32 MB
Weight: 1.9 oz (52 g) with batteries
One-Year Limited Warranty
Design
The appearance of this model mostly close to the look of Garmin's Forerunner sports watches range. It has a 1.0-inch monochrome LCD display and uses the same bold, a clean interface like Forerunner watches. There are four physical buttons around to operate the watch.
The watch weight is only 52g and lighter than Approach S3 which is 59g. So it's not bulky and will not cause any problem in your golf swing. The available color of this watch in the market is bright white and low key black shade. Also, the watch is water resistance up to 10 meters, so you don't need to worry about using it for a rainy round or retrieving your ball from a water hazard.
Features and Functionalities
Technology – Garmin Approach x40 is the latest golf GPS watch model that is currently selling in the market. So, Garmin Approach s2 is not exactly new technology. But still, it's a smart and affordable alternative to many other similar but expensive golf GPS watches. It's almost hard to find a course that is not covered because of the watch preloaded with over 40000 golf courses across the world. Also, you will get lifetime free course updates without signing up for any subscription.
The built-in scorecard of this watch allows you to enter your golf scores easily without wasting a lot of time for doing that. This device is high sensitivity GPS receiver and users can get benefits from it that improves tracking under trees.
Hazard Yardage – Garmin Approach S2 GPS watch doesn't offer yardage over ponds or bankers, and its capacity is limited in terms of when measures the width of the distance. In fact, it will not give you the width of the fairway. But still, it's a good choice for a golfer which offers extraordinary value for its money. Otherwise, you can consider purchasing the newer version Approach S6 if you can afford a more expensive alternative.
Coverage – Over 40000 golf courses all over the world pre-loaded in this watch. Also, these settings can update from Garmin Express and create full coverage without spending a single dime. Because of the rapid growth of Golfing industry, plenty of new golf courses appear each year. But the watch memory is limited and allows only 2 pre-loaded maps to perform updates. Fortunately, you can change or replace the regions you select to add on the device later on.
Watch Screen – The watch has a 1.0-inch monochrome LCD screen, and the screen resolution is 64×32 pixels. The watch receives yardage for the front, middle and back of the green, and yardage to both the layup position and the dogleg. And a built-in digital scorecard keeps track of your score throughout your round. Moreover, connecting the watch with your computer via USB cable (included with the watch), you can upload, store and print your scorecards.
Style – Garmin Approach S2 is a versatile GPS golf watch that you can wear casually to work or any other time besides the golf course. The black version of this watch is not flashy or clunky, but it's nice and decent style will definitely catch anyone attention. Alternatively, you can check other available variety of colors such as purple or blue if you want a bit more flash.
Battery Life
The battery life is quite long, it will last long at least 8 hours when you use it in GPS mode and 3 weeks in watch mode. It will last you for about 36 consecutive holes on the golf course. And it's enough to spend a long day on the golf course with this device. But don't forget the check whether your device is fully charged or not.
Garmin Approach S2 Review
Pros
Affordable.
Over 40000 golf course pre-loaded.
Lightweight, comfortable and easy to use.
Accuracy.
Built-in digital scorecard function.
Access to golf database is free.

Not a touchscreen enabled device

Green view mode is not present, which lets you see a graphical view of the green and adjust the flag according to the pin placement of the day.
Cons
Price is a bit higher than many other similar products but returns great value of money.
Doesn't offer yardages to lakes and bunkers.
Must adjust the device manually to show the right hole in a proper manner.
Main Benefits
Your game will get support from this device and help you to improve overall performance because it will allow you to analyze and measure your score more accurately to figure out where you need to work on.
You can use Garmin Approach S2 golf watch anytime or anywhere around the world in any golf course. Thanks to Garmin to its large golf course coverage across the globe.
Helps golfers to track their progress more effectively and time-saving way.
What In Box
White/Gray, Black/Red, Purple/White, Blue/Black Versions:
Approach S2
Data/charging clip
Manual
Black/Green Version:
Approach S2
Extra green watch band
Tools and pins
Data/charging clip
Manual
Final thought
It's true that this device is a bit more expensive among the other similar devices, but it offers a lot of useful and hands-on functionalities. A good and accurate GPS can change your golf game into a more predictable activity which is more important than the latest touch screen or fancy layouts.
If you have already tried other similar products but didn't get satisfactory results, or new in golfing, then Garmin Approach S2 golf GPS watch must be an excellent choice for you.